Ho visto Gallieno Ferri e Moreno Burattini! E ho visto anche Mauro Laurenti! E Marco Verni! E Gianni Sedioli! E Joevito Nuccio! Quindi ho visto quelli di Zagor, alcuni di quelli che scrivono e disegnano Zagor. Wow!
A Zagabria (Croazia).
[EN: I saw some of the people who write and draw Zagor! (In Zagreb, Croatia)]
[Vidjela sam dakle neke od ljudi koji pisu i crtaju Zagora! (U Zagrebu)]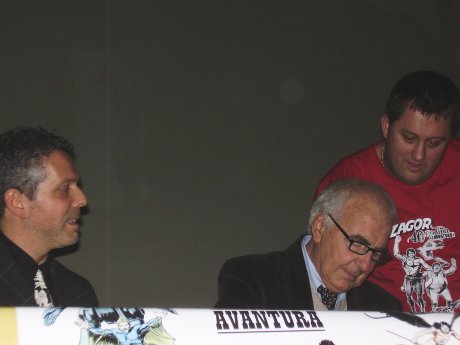 Era veramente un`occasione molto emozionante, e non solo per me. Per
il pubblico lo era sicuramente, applaudivano dopo ogni risposta degli
artisti. Praticamente una standing ovation. Anche gli artisti
erano felici di incontrare un tale interesse ed importanza del universo
Zagor nell'immaginario della gente del posto. Avrei voluto segnarmi
alcune cose che hanno detto, ma non ci sono riuscita, preferivo non
perdere un istante e osservare tutto invece che scrivere. Un po` mi
dispiace ma che si puo` fare. Invece ecco alcune (poche ma preziose) foto che sono
riuscita a fare (non c`era tanta luce e la mia macchina fotografica non
e` granche` 🙁 ).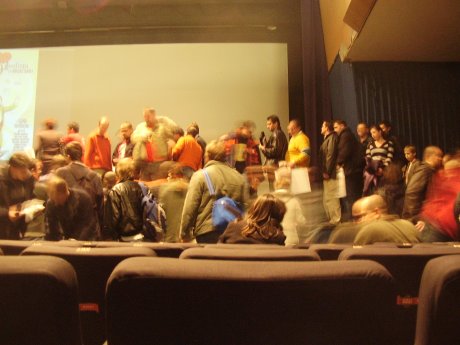 Per gli autografi c`era bisogno di avere gia` il numerino e lo stesso non era facile mantenere l`ordine, tanto era grande l`entusiasmo.
[EN: For the autographs you needed to have already taken a number and still there was chaos due to all of the enthusiasm.]
[HR: Za potpise je trebalo vec imati broj i opet nije bilo lako odrzati red koliko je bilo entuzijazma.]
---
[To read the english and croatian versions of the text and see photos click "Continua"]
[Za hrvatsku i englesku verziju teksta i da vidite fotke kliknite "Continua"]
---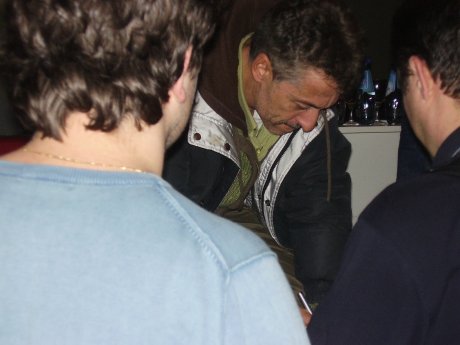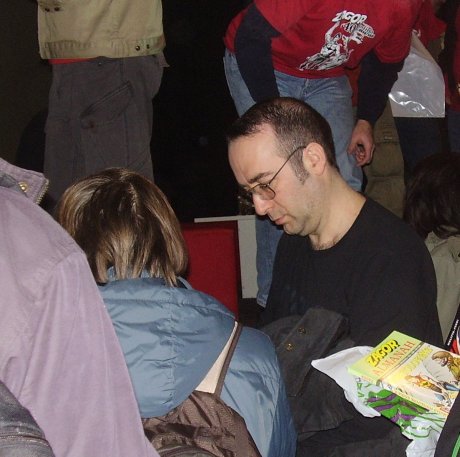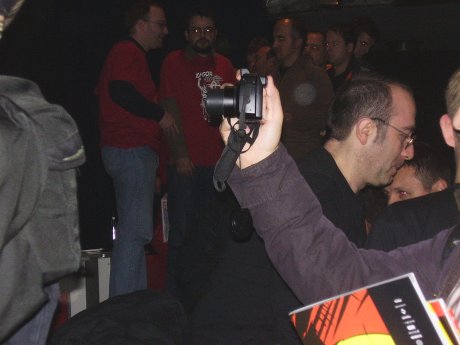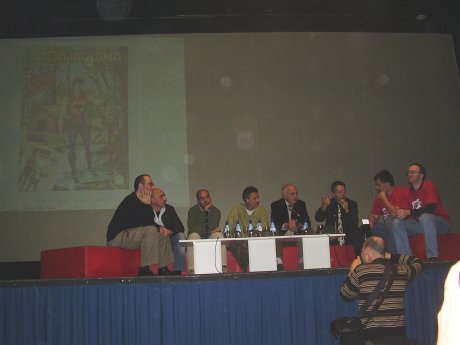 [ENGLISH: I saw Gallieno Ferri and Moreno Burattini! I also saw Mauro
Laurenti! And Marco Verni! And Gianni Sedioli! And Joevito Nuccio! I saw some of the people who write and draw the comicbook Zagor. Wow! It was really a very emotional occasion, and not only for me. The audience was ver excited, applauding after everey single thing the artist said, practically a standing ovation. And the artists, I think, were happy for all the interest and for the importance that the Zagor universe had in the imaginary of the local people. I would have liked to have written down some of the things being said but I prefered not to spoil the moment or miss any of the event. Now I`m a bit sorry but it`s ok. I did however manage to make some (few but precious) photos with my not-so-great photo camera (there wasn`t so much light).]
[HRVATSKI: Vidjela sam Galliena Ferria i Morena Burattinija! I Maura
Laurentija! I Marca Vernija! I Gianni a Sediolija! I Joevita Nuccia! Vidjela sam dakle neke od ljudi koji pisu i crtaju Zagora. Wow! Koji emotivni dogadja, i za publiku i za umjetnike. Publika je aplaudirala nakon svake izjave, prakticki standing ovation. Mislim da je i umjetnicima bilo drago vidjeti takav interes i da takvu vaznost ima Zagorov univerzum za lokalne ljude. Sad mi je malo zao sto nisam zabiljezila nesto od onoga sto su govorili ali nisam htjela pokvarit sebi trenutak. Ali zato su tu fotke, nije ih puno jer mi fotkac nije bas neki a nije bilo puno svijetla. Ali su dragocjene.]
---
I commenti non appaiono subito ma dopo l`approvazione causa spam.
The comments do not show up until approval because of spam. I check often.
Komentari su vidljivi nakon moderacije radi spama. Pricekajte odmah ja to odobrim.