[scroll for english and croatian]
[nakon talijanskog slijedi verzija na engleskom i hrvatskom]
[IT: L'idea sarebbe quella di fare una tavola alla settimana. Mi spiego meglio… gia` ogni settimana mi passano per le mani svariate tavole di fumetto, solo che mi incasino, rifaccio, ritocco e allora tutto sommato ne concludo poche. Per curarmi da questo vizio, accetto il consiglio datomi e ne concludo almeno una alla settimana, anche se e` una cosina fatta a posta, come questa, nata da una copia dal vero che poi ha ispirato una praticamente storiella. Si, so che non e` perfetta. Per niente. Se vi interessa vedere la copia dal vero in questione e leggere la spiegazione clicka "Continua".]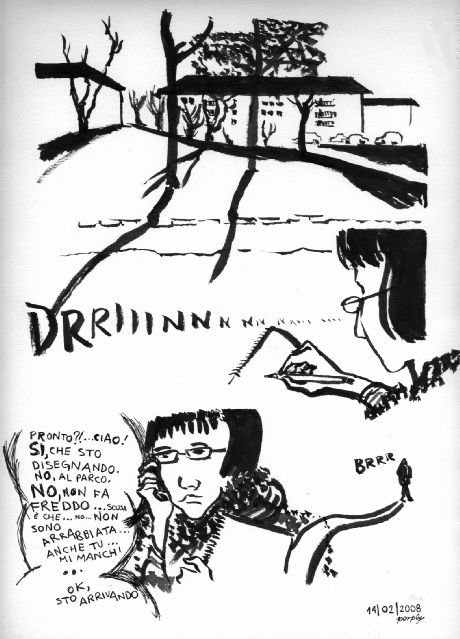 {PS: Ah si, buon V-day. Cioe` err.. intendo… V come… Vinavyl… cioe` come San Valentino… Insomma, ma che ve lo spiego a fare. Magari un giorno. Magari in un fumetto. Forse. Uffa non menatevela subito. Cioe`… non e` successo niente. No, l'antipolitica non c'entra. (…) Insomma, come direbbe Alanis Morisette, grazie delusione. Anzi, dis-illusione. (dis-illusion-ment), ma soprattutto grazie o grazie al silenzio. Thank you, thank you, silence.}
[EN: I'm going to try doing one page of comics every week. It's an advice I decided to accept. I mean, I do really draw much more then that but have trouble completing. So when a week passes by and I'm swimming in an ocean of half-finished drawings and panels, I'll do something along the lines of what you see above. A quick but more or less finished work. Yes, I know it's far from perfect. Click "Continua"if you want to know more.
The balloon says something like "Hello? Yeah I AM drawing… No, in the park. NO, it's NOT cold… Sorry… it's just that… no, I'm NOT angry… yeah… I miss you… too… ok… I'm coming"]
[HR: Pokusati cu dovrsiti barem jednu tablu stripa sedmicno, prihvatila sam savjet da probam tu metodu odrzavanja ritma. Naravno da ja crtam vise od toga, ali tesko dovrsavam radove jer uvijek mijenjam i doradjujem. Tako da, ako zaglibim u moru komplikacija uvijek mogu napraviti nesto na brzinu poput crteza kojeg vidite gore. Znam da nije savrseno. Daleko od toga. Ali neka. Za detalje kliknite "Continua".
Oblacic "kaze" nesto kao "Halo? Cao… Da, jasno da crtam… Ne, u parku… NE, NIJE hladno… Oprosti… samo sto… ne… NISAM ljuta… ma i ti… i ti meni nedostajes… Ok… ok… stizem… "]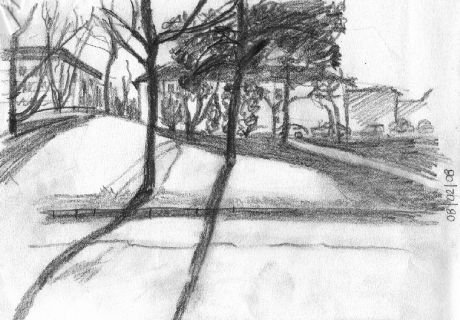 [IT: L'idea per la tavola mi e` venuta da questa copia dal vero. Spesso le idee per la composizione e per la storia nascono da li`, del resto, la reinterpretazione del visibile attraverso il disegno e` una sorgente infinita di materiale, idee, ispirazione. Quel giorno, 8.02.08., faceva freddo. Ma mi dicevano che fa caldo, e a vedere il sole pensavo "magari anche si, vado fuori e disegno, magari". Solo che ci ho messo un po` e quando sono uscita era il tardo pomeriggio e il sole stava scendendo. Disegnare ho disegnato ma mi si sono gelate le mani. Almeno cio` mi ha fatto venire quest'idea. Oggi invece faceva caldo abbastanza e si disegnava con tranquilita`. Anche se sono stata a casa, inchoistrando gli esercizi per la scuola, la maggior parte del tempo.]
[EN: I got the idea from a drawing I did "from life". I often get ideas that way, for the composition or for the narration… the rendering of the visible worlds by the means of drawing is, after all, an endless source of inspiration, material, ideas. The original drawing was made on the 8th of february, and it was a sunny but kind of a cold day. Maybe it was because the sun was going down already. Anyway I was told that it's a sunny day so that gave me the idea to go out and draw. But my hands were freazing. At least it gave me an idea. Today it was warmer already. I drew without problems. Though I stayed indoors most of the day to ink the exercises for the school.]
[HR: Pricicaje nastala iz jednog crteza krajolika (kako se kaze 'dal vero'/'from life'???). Cesto mi iz skica 'iz zivota' dolaze ideje za kompozicije i naracije – ono sto nas okruzuje, ono vidljivo sto nas okruzuje, i prikazivanje toga kroz crtez – je beskonacan izvor inspiracije, ideja, materijala. 08.02. je bilo hladno. Cula sam da kao, ah suncan dan, pa mi je palo na pamet da izadjem i skiciram. A onda mi se smrzle ruke. Ali bar mi je dalo ideju za pricu. Danas je vec toplije. A ja kod kuce tusiram vjezbe za skolu. Skoro cijeli dan.]
---
I commenti non appaiono subito ma dopo l`approvazione per evitare lo spam.
The comments do not show up until approval because of spam. I check often.
Komentari su vidljivi nakon moderacije radi spama. Pricekajte odmah ja to odobrim.