[scroll for english and croatian]
[nakon talijanskog slijedi verzija na engleskom i hrvatskom]
[IT: Sto continuando con il ritmo di completare almeno una tavola alla settimana. Anche se questo mi consola poco se ricordo che per la prossima settimana devo concluderle ben 8, ma di questo scrivero` con calma poi.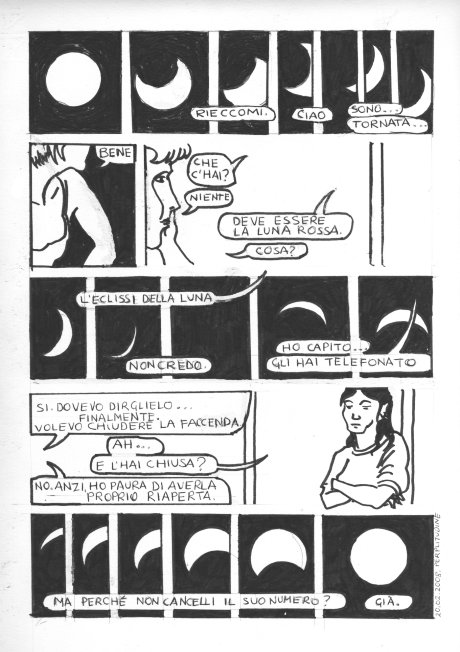 Ecco.
Questa settimana pensavo di fare una cosa semplice semplice ma poi mi hanno ispirato varie cose, tra le quali i passaggi di maturazione, l'eclissi della luna, un fumetto di A. Breccia/Trillo uscito sul Alter alter di settembre 1977 (La zampa della scimmia) e Sophia, nella Parigi ermetica di Vanna Vinci… E cosi` mi sono incasinata. Ma ne e` valsa la pena. Ovviamente ho ancora tanta strada da fare. Intanto questo e` un passo. Per vedere le tavole che mi hanno ispirato clickate "Continua".]
[EN: I'm managing to keep up with the rhytm of completing at least one panel a week. That is a small consolation if I consider that in the upcoming week I need to finish another 8 of them for a project I'll explain later. I managed to complicate my life this time as well, inspired by the eclipse of the moon, some personal issues/maturation(s), and comics like and A. Breccia/Trillo (from 1977, published in an italian comics magazine Alter alter, inspired by a story by W.W. Jacobs) and Vanna Vinci (Sophia, nella Parigi ermetica). I am still way behind their skills and have a long way yet to go, but that's ok, and this is one step in that direction. To read the translation of my dialogs and see the panels that inspired me click "Continua".]
[HR: Uspijevam odrzati ritam dovrsavanja bar jednog tabloa sedicno, ali slaba mi je to utjeha kad me slijedecu ceka bar osam, radi ovog jednog projekta kojeg cu vam objasniti kasnije. Ovaj put su me inspirirale neke osobne price/sazrijevanja, pomrcina mjeseca, jedan strip iz 77 (autori A.Breccia i Trillo, izasao u talijanskom strip casopisu Alter alter, inspiriran pricom W.W. Jacobsa) i jedan strip od Vanne Vinci (Sophia, nella Parigi ermetica). Jos imam prevaliti mnogo puta, ali i ovo je jedan korak. Ako kliknete na "Continua" procitat cete prijevod dijaloga i vidjeti tabloe koji su me inspirirali.]
---
[EN: The dialog goes, roughly " – Here I am. Hi. I'm back. – Fine. –
What's wrong? – Nothing. – Must be the red moon. – What? – The eclipse
of the moon. – I don't think so. – I got it. You phoned him? – Yes. I
had to tell him… finally… I wanted to close the issue.- And did you
close it? – No. I'm afraid I reopened it instead. – But why don't you
erase his number? – Yeah."]
[HR: Dijalog je, vise manje " – Evo me. Alo. Vratila sam se. – Dobro.
– Sta ti je? – Nista. – Bit ce da je crveni mjesec. – Sta? – Pomrcina
mjeseca. – Ne vjerujem. – Shvatila sam. Nazvala si ga na telefon. – Da.
Morala san mu rec, konacno. A i da konacno zatvorim to pitanje. – I,
jesi li zatvorila? – Ne. Dapace, mislim da sam ga ponovno otvorila. –
Ma zasto ne izbrises njegov broj? – Pa da."]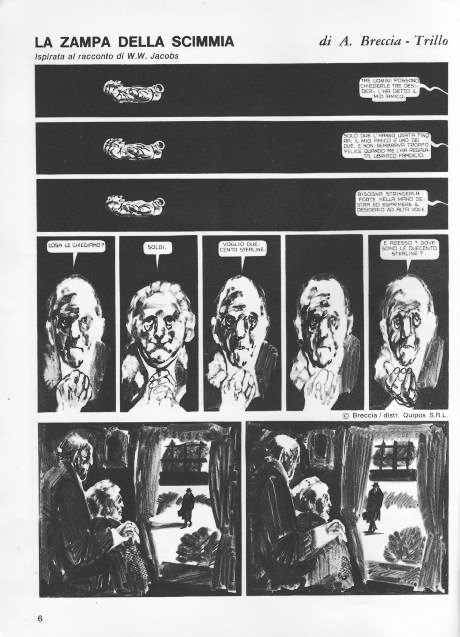 [La zampa della scimmia, A. Breccia/ Trillo, ispirata al racconto di W.W. Jacobs, Alter alte, settembre 1977, Milano LIbri Edizioni, tavola 1 di 5]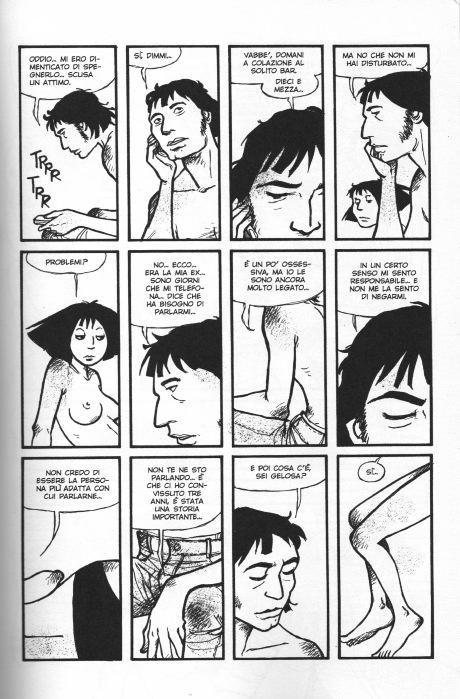 [Sophia, nella Parigi ermetica, Vanna Vinci, Bologna, Kappa Edizion, 2007]
---
I commenti non appaiono subito ma dopo l`approvazione per evitare lo spam.
The comments do not show up until approval because of spam. I check often.
Komentari su vidljivi nakon moderacije radi spama. Pricekajte odmah ja to odobrim.