Sono tornata dallo Hackmeeting2007, portandomi dietro un raffredore non molto preoccupante, uno certo spaesamento e tanto entusiasmo. Pioveva spesso, ma i momenti di sole che il "cielo" (la sfera blu sopra le nostre teste che vela l`universo durante il giorno) ci concedeva erano carini e un po` anche magici. Comunque, certo, il tempo non cambiava tanto istericamente quanto in Olanda, ok. Cioe`, what the hack? Tanta gente, alcuni individui per me nuovi, da conoscere, alcuni non tanto nuovi, alcuni ritrovati molto volentieri, alcuni forse da evitare, tante chiacchiere, alcune conversazioni importanti, qualche non detto, qualche non detto particolarmente pesante, ma si va avanti.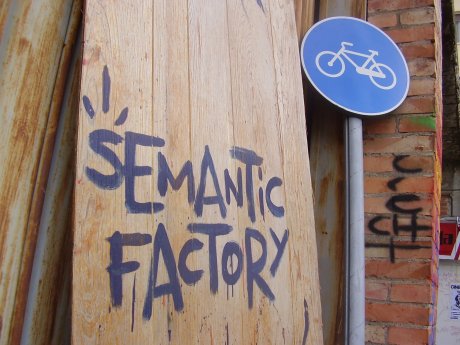 Adesso sto sistemando le impressioni, appunti, ricordi, files, photos, quindi fra poco arrivano altri post su questo tema.
Intanto, leggetevi anche il blog di pm10 (1, 2 ) e di espanz (qui).
[I`m
back from the Pisa 2007 Hackmeeting, with a not-particularly-worrying
cold, some confusion and lots of enthusiasm. It rained a lot, but the
moments of sunshine that the "sky" (the sphere of blue above our heads
that veils the universe in the daylight) would concede us were lovely
and somewhat magical. The weather didn`t change quite so frantically as
in Holland, though. I mean, what the hack? 😉 (…)]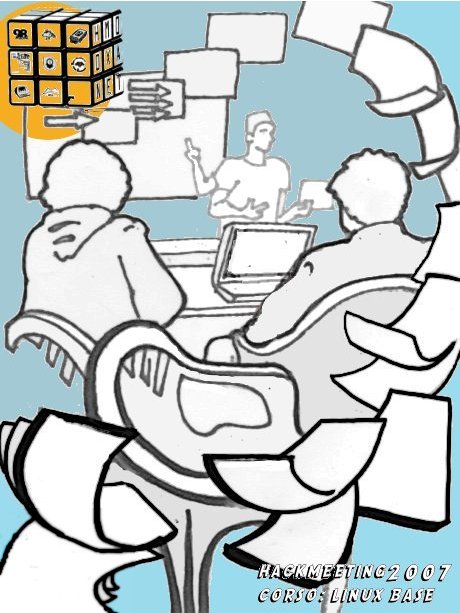 www.hackmeeting.org
Click "Continua" to read/see more of this.
Non ho fatto tanta copia dal vero quanto speravo, anche perche` gli
hackers sono gente che si innervosisce facilmente se si sente
osservata. Ma ecco un scarabocchio che ho fatto durante la "lezione" di
linux base e poi rielaborato con computer. Eh, si, che dolore non avere
la tavoletta grafica. Pero`, di compenso, stamattina quando sono scesa
a prendere il latte ho preso anche una montagna dei pseudo-pantone a
doppia punta e me ne sto innamorando. Ah, mi ricordo la mia prima
lezione di "linux base". Io avevo appena acquistato un portatile per
diventare la vj e sopra ci avevo windoz, ovviamente. La lezione era
molto impostata sulla filosofia "o sei la parte del problema, o parte
della soluzione", e mi ha convinto abbastanza. Da allora ho scoperto
linux, che mi ha portato a delle scoperte e avventure interessanti,
anche un lavoro nel campo del web-development, ma la mia "carriera" di
vj non ne e` stata particolarmente favorita, pero`.
[I didn`t
manage to do as much drawing from life as I had hoped, also because the
hackers are a bit nervous when they feel observed. However here is one
doodle I did sketch during a basic linux "lesson" and then I messed
with it on the computer. So annoying to do without a graphic tablet
which I still don`t have, but on the other hand when I went out to buy
milk this morning I also came back with a bunch of pseudo-pantone
twin-tip markers and now I`m definitely falling in love with them. Ah,
basic linux… I remember my "first" linux lesson, I had just bought a
laptop to become a vj and then I heared a speach on linux that was very
much in the lines of "either you are a part of the problem or part of a
solution." I was totally inspired, installed linux,which did lead me to
many adventures, discoveries, even a job in web development. It didn`t,
however, help my supposed vjing "career".]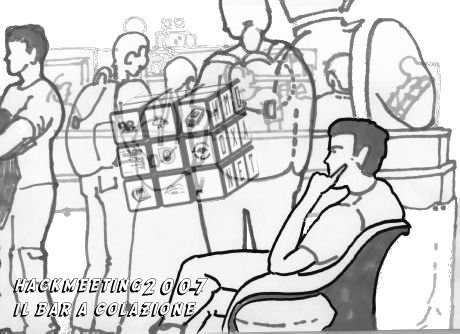 Coffee.. Nutella equo-solidale (a quale ho resistito). La follaaa… Il bar durante la colazione subito prima del seminario su "hack the bread", ossia lo hacking del pane (bellissimo!).
[That`s the bar during the breakfast rush but just before the "hack the bread" seminar.]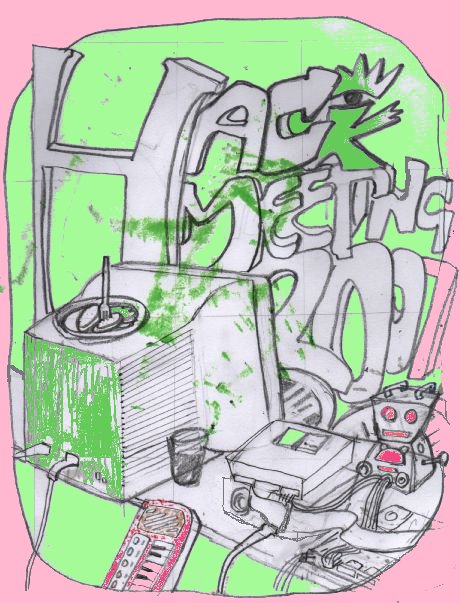 Un pazzo scarabocchio pieno di "errori" quale non mi sento di buttare nella spazzatura.
[A crazy confused doodle full of "errors" that I don`t manage to throw into the garbage.]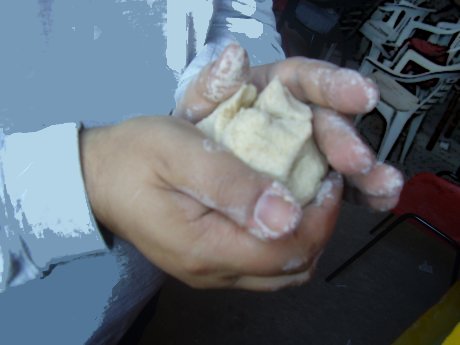 Gia`, il paneee… (il resoconto continua nei prossimi post).
[The bread! More in the upcoming posts.]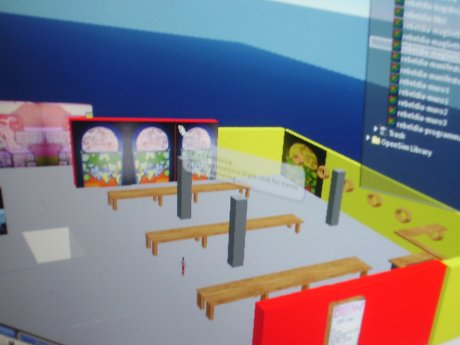 Un server indipendente di una specia di Second Life, dove stavano sviluppando un modellino dello spazio del meeting.
[An independent server with some kind of Second Life where a model of the meeting space was being constructed.]
Ah, si… la nostalgia… Visto che era il decimo hackmeeting, c`erano tanti resoconti e ricordi e paragoni. Eh, a pensarci adesso, ai bbs… Era come svegliarsi e trovare tutto il mondo nella tua stanza.
[Ah, the nostalgia. Since this was the 10th hackmeeting there was quite a bit of going down the memory lane and such going on. It made me think of the bbs`s, which felt at the time a bit like waking up and finding the world inside your room.]
To be continued…
(IF I feel like it)